This store requires javascript to be enabled for some features to work correctly.
Customer Reviews
Write a Review
Ask a Question
08/10/2022
Ann

United States
08/10/2022
Ann

United States
05/02/2022
Vikee K.

United States
The '80s Called
The '80s called… They want their jewelry back. I'm not letting them have it! I'm bringing back the eras that brought us Carrie Bradshaw and Elvira Hancock(Scarface). This thick Snake Smooth Chain 18k Gold Plated Necklace gives me that retro look I was trying to recreate! This is a true statement piece. And I love that it's adjustable! Make a statement this summer!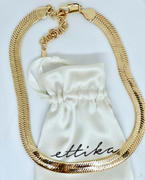 05/01/2022
Danielle

United States
Love this!
This is such a great necklace, it makes a statement because it's quite thick but also can be casual. I docked one star because I feel the images on Ettika's website do not match the color of the products. Since these are 18k gold plated, they come off closer to a rose gold shade rather than the brighter yellow that it appears in these images. I don't mind when I wear them alone or with other ettika pieces, but it's harder to mix and match with my current 14k pieces since the gold color difference is so obvious.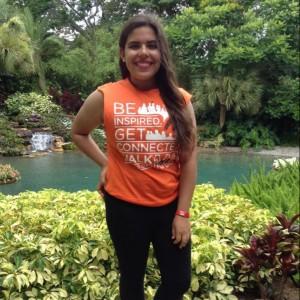 YS
05/01/2022
Yadira S.

United States
Sleeky yet sophisticated and edgy
I love this chain. The chain is sooo sophisticated and it definitely elevates an outfit/look. One of my new favorites and staples
04/30/2022
Jenifer A.

United States
90s
This necklace reminds of the herringbone chain my father used to wear, so it holds a special place in my heart. It's very 90's and chic and goes well with a lot of things.
04/30/2022
Jillian N.

United States
04/30/2022
Shuantel

United States
One Of My Faves!!
This necklace is EVERYTHING!!! It is such good quality and definitely one of my favorites. I love how thick the clasp is as well
04/30/2022
Mary

United States
04/29/2022
Makenzie h.

United States
Simple but stylish
This necklace is a staple piece in my wardrobe!!! I literally wear it every time I go out. It's such a statement piece and makes me feel so fierce. The only thing I don't like is the color turns kinda fast so be careful! I never worn it in the shower or sprayed perfume on it.