This store requires javascript to be enabled for some features to work correctly.
Customer Reviews
Write a Review
Ask a Question
10/03/2022
Shay

Canada
I CAN UNDERSTAND WHY THEY SOLD OUT SO FAST ! Love them
These hair claws are definitely some of the best quality ones I've ever owned. ( my old ones are from the dollar store or drug store and always broke on me ). Very thankful I came across these. Especially the fun colors. I got the Cream, pink & orange acrylic claws. I've been growing my hair out since the beginning of Covid I have been letting my hair grow and it's almost all the way down my back. These claws sure come in handy for quick updos. My hairs not too thick so they work perfectly for me. I think if you have super thick hair you would just have to put less in the clips. The colors are so fun that I chose and I've actually had some really nice compliments. I also use one of them to keep the hair out of my face while I wash it every night. I love these and have no problems highly recommending them. Funny enough I couldn't find a hair elastic for my ponytail so I had to use one of these and it worked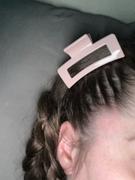 09/30/2022
Makayla

United States
Cute & versatile clips!
These are such a great all around hair clip! I like that they are a bit smaller than the big chunky sized clips and they are great quality. I also love the look and feel of them because it's much more chic that some of the basic clips out there. Definitely recommend!
09/30/2022
Alexa

United States
Obsessed with these claws!
These claws are my new favorite!! I have very long and thick hair, and my hair usually falls out of most claws throughout the day so that I need to keep fixing it - not with these! The claw grabs my hair so well and it stays completely in place! The size is perfect for my hair length and the colors I got (cream, pink, and orange) go with anything!
09/30/2022
Taylor S.

United States
Super cute clips
Cute clips! A little small for thick hair but still can make it work!!
09/30/2022
Laurel

United States
09/30/2022
Jackie

United States
So trendy and practical!
I love hair claws because I have very long hair and use them often. It's difficult finding hair claws with strength for the amount of hair I have, but these were perfect! In addition to being practical, the cream pink set have beautiful colors that pop!
09/30/2022
Angela

United States
LOVE
I love these clips and are perfect with my thick hair. Highly recommend.
09/29/2022
Sanjana G.

United States
PERFECT HAIR CLAWS
These clips hold my long, thick hair perfectly and the colors are lovely for all seasons!
09/29/2022
Mylie S.

United States
BEST EVER!!!
These really are the best claw clips i own. they hold my hair so well and they feel very secure!! they're cute and high quality! did a shake test and it didn't fall!!
09/28/2022
Mary

United States
Great basic clips
The plastic and spring seem strong and sturdy. The more neutral colors are nice. I put one of these in my husband's long hair and he keeps wearing it around the house!