This store requires javascript to be enabled for some features to work correctly.
Customer Reviews
Write a Review
Ask a Question
02/03/2023
Ryann S.

United States
Stunning
If you're looking for some show-stopping earrings, look no further! These are absolutely perfect for any evening look. Would look super stunning with a long gown and an updo. 1000/10 you should buy it! I'm IN LOVE!!
02/03/2023
Kendall W.

United States
Perfect piece
If you love a good statement piece when it comes to jewelry, these are a for you ! super lightweight too!
02/01/2023
Elle O.

United States
Cute special occasion earrings!
I love dangle earrings so much and thought these would be cute to wear for a special occasion. I wore these on my birthday, and I fell so in love. I got so many compliments on them! They are not too heavy on my ears, and they were very sparkly even in dimmer lights. I have sensitive ears and I cannot wear anything other than gold but having these in for about 6 hours they never bothered my ears.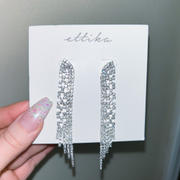 01/31/2023
Emily

United States
Striking
If you love a good statement piece when it comes to jewelry, these are a necessity! Obviously, not your every day earrings, but extremely beautiful and quite the conversation piece when wearing them.
01/31/2023
Share

United States
Diamonds are a Girl's Best Friend
These diamond dangle earrings will be your new best friend! Perfect touch of bling for a girl's night out with a cocktail dress and heels. So absolutely stunning on and comfy for an all night wear since they are lightweight.
01/31/2023
Mikayla C.

United States
STUNNING statement jewels!
I ordered these earrings for a few upcoming weddings and they were SHOWSTOPPING. The shimmer on these earrings is so stunning I can't wait to continue to wear them to more events. They are also very high quality and look much more expensive than they are. Plus, they are guaranteed to get you a compliment or two. Couldn't reccomend enough!
01/30/2023
Dani S.

United States
Champagne toast
Cheers to this bling! The dainty drop style of them just floating on each ear is so stylish and I love how easy and light they are!!
01/29/2023
Jillian

United States
THESE ARE PERFECT
ABSOLUTELY LOVE these earrings. They are so glitzy and glam! Perfect for any fancy event, especially a wedding paired with a black dress. LOVE
01/29/2023
Katie W.

United States
01/28/2023
Sara E.

United States
Stunning
These are so delicate and beautiful! I really like the length and they look perfect for a night out on the town or an eventful party. I can see myself reaching fir these for special occasions as well.