This store requires javascript to be enabled for some features to work correctly.
Customer Reviews
Write a Review
Ask a Question
01/30/2023
Caroline

United States
dainty and cute
I love evil eye jewelry so when I saw this piece I had to have it! It is so dainty and cute and can be worn alone or layered with other necklaces
01/30/2023
Tamara

United States
01/29/2023
Jillian

United States
So cute
Such a cute piece! Love the evil eye detail! Can't wait to wear on my honeymoon in Greece this summer!
01/29/2023
Mary

United States
Basic and beautiful
If you like this all-seeing eye trend and also simple/small jewelry, this necklace is perfect. It will go with everything and I can't wait to style it multiple ways.
01/29/2023
Katie W.

United States
The perfect evil eye/all seeing eye necklace!
Im obsessed with evil eyes/all seeing eyes and saw this and had to have it! It's a perfect reminder to surround yourself with positive energy and people! It's so pretty and perfect for layering with other necklaces, I love that it has the extender so you can wear it at different lengths!! It's lightweight and a perfect everyday necklace!
01/29/2023
Kellie

United States
01/29/2023
THJewett

United States
Love this eye necklace
The All Knowing Eye Crystal and 18k Gold Plated Necklace with Clear Crystals is adjustable. The chain and crystals are very sparkly. I love this necklace! I like that it stays put and the eye is centered. I have been wanting an eye necklace and love this design. It is the cutest evil eye necklace I have seen to help protect me.
01/27/2023
Lucia L.

United States
Unique Evil Eye Necklace
In a sea of evil eye jewelry, this necklace is definitely one of the most unique and beautifully crafted necklaces I've seen. I love how the jewels on top of the eye resemble eyelashes, which I haven't seen elsewhere. The eye charm is a bit larger than I expected, but overall, this is still a dainty and beautiful statement piece.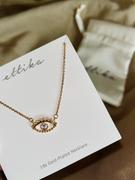 01/27/2023
Kate P.

United States
01/27/2023
Dairelis

United States
Positive vibes all 2023
I love a dainty necklace and this one is a staple. Ettikas jewelry pieces are great quality, they have not tarnished for me. I love to wear it alone or stacked with other staple pieces.