This store requires javascript to be enabled for some features to work correctly.
Customer Reviews
Write a Review
Ask a Question
01/30/2023
cocktailswithcait

United States
Beautiful Set / Gift
This was my first time ordering from Ettika and I'm pleased with the quality. The necklaces come on a branded holder that explains not to expose them to water, lotions, perfume, etc., states that they're 18k gold plated, and they provide a branded storage/dust bag as well. I like that it's 2 necklaces vs. them being attached. They both have adjustable lengths. They're a bit heavy, and I can't speak to how they'll wear over time, but upon first look and feel I'm very excited to gift these to my friend. They're totally her style.
01/30/2023
Ebony H.

United States
FAV PURCHASE YET
I recently did a little jewelry splurging and this is by far my favorite piece from the splurge!! I am in love with this necklace set. I am in love with the pop of color (emerald)!! Highly recommend purchasing, it gets a 10 out of 10 from me!! I wore it recently for girl's night with a black blazer and added an emerald green bag to bring out the necklace! I received so many compliments! Can't wait to style it again!! I wish I took a better picture with it, but I hope it gives you an idea on how to style it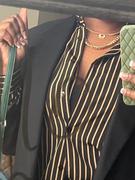 01/28/2023
Shayna R.

Canada
Been waiting FOREVER for this beauty. Always sold out & I now know why
Holy moly!!! This is a SHOWSTOPPER of a necklace. I'm absolutely obsessed with it and just the green stone. The gold parts of the necklace look so real and they have some weight to them like real gold does. Best part is you get 2 separate necklaces to mix and match however you want. I've wanted this necklace forever but it's always sold out. Luckily they have it on pre order right now so I would highly recommend you take advantage of this. I swear this has got to be one of their most popular pieces. Especially when it comes to necklaces. It's just so chic and regal. Plus it's so well made. Ettika always makes the best jewelry and I've yet to be disappointed by any piece I've received. Trust me when I say , DONT PASS THIS ONR UP !!!
01/28/2023
Saraa

United States
Pretty together or by themselves
So perfect for layering. I also love to wear them separate and alone. These necklaces can go with so many different outfits and I just love the style. They look great on and appear to be excellent quality. I would recommend to others.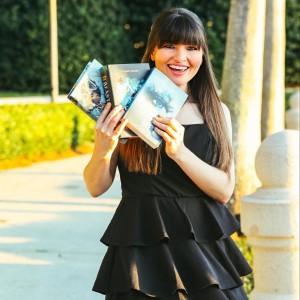 H
01/27/2023
HeyitsCarlyRae

United States
Gorgeous Emerld Green
This necklace has been one I've been wanting to get for a while. I adore the emerald stone in the center and the simple gold-plated chain necklace. This piece is perfect for any season!
01/26/2023
Cris G.

United States
Gorgeous Set
Love this set! Both necklaces are adjustable in length, making them super easy to mix & match together & with other pieces. Gorgeous chains that I am so looking forward to styling!
01/25/2023
Kaitlyn M.

United States
THE NECKLACE SET OF YOUR DREAMS!
I actually gasped when I opened the package! This is more beautiful in person! I really love that you can either wear these as a set or separately. The emerald green color of the crystal is absolutely stunning and will definitely take your breath away! As mentioned in a few other reviews, the chunkier chain does have a little more weight to it but it's not heavy at all. These will definitely be a daily wear along with my other chains that I wear!!!
01/25/2023
Tola

United States
Love love love
This is a stellar set! The two look so cute stacked, and I love that they're not connected, so I can wear them separately if I want.
01/24/2023
Kelsea R.

United States
Pretty, heavy, cute set
I like that these are separate chains with a lot of length for adjustment. I like to wear them pretty short. Love the smaller chain with the pendant. The thicker one is very heavy, a bit like costume jewelry. But I'm partial to dainty jewelry. Overall I can see myself mixing and matching these with my other chains very easily. Comes with their storage bag. Made in China.
01/13/2023
Aleah M.

United States
Obsessed
This emerald green crystal pendant necklace set comes with both necklaces in the picture. The wider Chan is extremely beautiful and I honestly have been wearing them separate but you can still wear them together which is super cool. I haven't even showered in mind even though it's not recommended and there has been no damage as long as you dry it properly after. I love it