This store requires javascript to be enabled for some features to work correctly.
Customer Reviews
Write a Review
Ask a Question
01/30/2023
cocktailswithcait

United States
Sparkly & Dainty
This necklace is really dainty & beautiful. I ordered it for a friend but had to try it on myself for the review once it arrived. I was tempted to keep it for myself! haha. I love that the crystals are different sizes/shapes, it adds a touch of whimsy. It came well packaged with a care card (avoid things like sweat, water, lotions, and perfumes to the gold plating will last) and a branded dust bag, so it's perfectly giftable. The only reasons I'm taking off a star are that the clasp feels a bit dainty/I'm concerned it could break over time and it's difficult for the necklace to lay right and keep all of the gems face-up at all times. The good news is that the back side of them look kind of pretty too, so the average person likely won't notice if one of them has flipped anyway.
01/30/2023
Angie

United States
Simple and classy
This necklace is simple, elegant, and classy!
01/30/2023
Tamara

United States
01/29/2023
Mary

United States
Beautiful and minimal
This is such a beautiful dainty necklace. It's perfect on its own with smaller earrings for a simple look, or can be layered with other necklaces. Definitely recommend!
01/29/2023
Elizabeth C.

United States
Perfect Everyday Accessory
The shapely crystals necklace is a versatile piece of jewelry that can be worn with any outfit, making it a perfect everyday accessory. Its unique and eye-catching design allows it to elevate any look, making it suitable for both day and night. The crystals sparkle and shine in the light, adding a touch of glamour to any outfit. However, there is a minor flaw in that not all of the crystals stay facing up. This means that sometimes the necklace may not look as perfect as it should, which can be a bit of a drawback. However, this is a minor issue and can easily be remedied by adjusting the necklace so that the crystals are facing the right way. Overall, the shapely crystals necklace is a beautiful and stylish accessory that is perfect for everyday wear.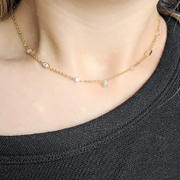 01/28/2023
Gab

United States
Beautiful Necklace!
Very lovely and light necklace! I adore the beautiful shapes which I think makes it so unique. I like simple necklaces like this for every day wear (especially for work) and for when I want to accessorize without overdoing it. What's great about it is that it complements so many necklines, so you can definitely wear it with almost anything. If you like simple but beautiful jewelry, this necklace is for you!